September 14, 2020
Plant Wall Decor - Gifts for plant lovers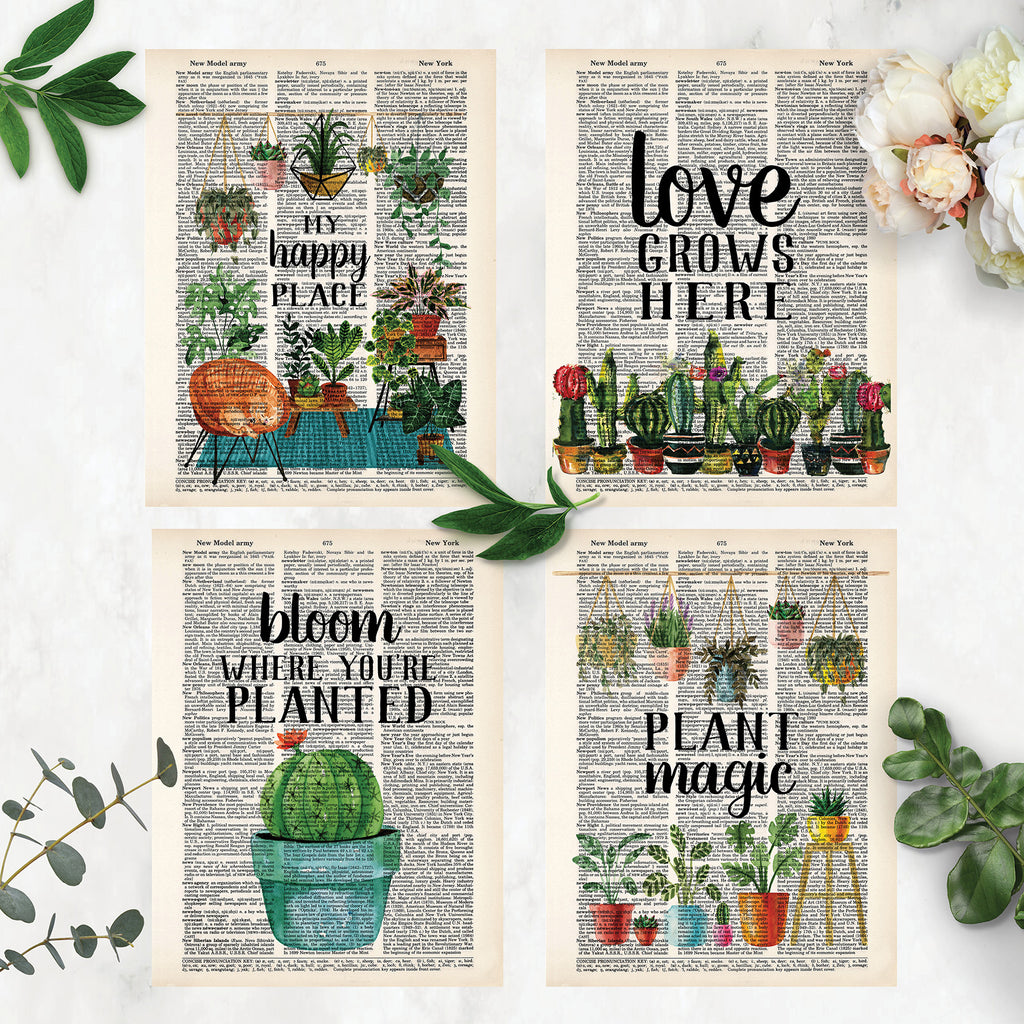 From hanging plant wall art, succulent wall decor ideas, or framed floral wall art, we have so many gift ideas for the plant lover on your holiday gift list.

I know you might be thinking the obvious answer is to give the plant lover another plant for the holidays but when you're gifting from a distance or aren't sure what they would want it can be challenging. Don't worry, I have fun art solutions!  
You might not know that I sell my art at markets local to the Tampa Bay area, first up I'd like to introduce you to the  most popular plant print wall art from local markets, My Happy Place! This sweet scene of hanging plants surrounded by potted plants and potted succulents on plant stands really speaks to the plant lover. Included is a variety of house plants and succulents, this one is sure to please! I have had so much positive feedback on this print. People love it because they can envision themselves sitting in this plant filled room and it makes them happy. It makes me happy too. 

Click the image to shop
Next up is Bloom Where You're Planted. I really love the prickly cactus with a single determined bloom in the classic terracotta plant pot, it seems so fitting for this inspirational quote. This potted cactus with this quote is still one of my favorites! If you've overcome adversity or know someone who might need to thrive through a difficult situation, this is so perfect. 
Click the image to shop
Love Grows Here is a great choice for the plant loving couple. Customers have said how much they love the row of cactus under this quote. Yes love can sometimes have thorns because of adversity but love can still grow and thrive. Potted cactus are such a great option for your plant wall decor goals and makes a great couples gift or family holiday gift. 
Click the image to shop
Plant Magic is a personal favorite. The row of hanging plants and hanging succulents on a bamboo rod and the potted plants of varying sizes below. Plants are magic and magical and they should be celebrated. Plants are magical! Not only do they brighten a room, they give us oxygen! Win win! 
Click the image to shop
All great choices aren't they? If you're thinking you don't know which one of these to pick for your favorite plant lover to meet your botanical wall art goals, don't worry! I offer them as a value pack, FOUR prints for the price of three!! AMAZING deal! You can gift one or two and keep one or two or gift one and keep three, whatever works for you! You also have the option of adding additional prints to your order for the same flat rate shipping! 
Click the image to shop
Still need more? Check out my entire line up of Plants and Nature Prints!
Dictionary prints aren't your thing? I have a whole line up of plants and nature themed prints on white paper including vintage floral wall all that look amazing and will be the highlight of your framed botanical wall art. Have a look and see what you think! 

Thanks for looking at my fun art for plant lovers, happy shopping!